Quick links to our most popular products
Haven Fencing is a long-established Melbourne fence contractor specialising in automatic gates: automatic sliding gates, automatic swing gates and automatic cantilever gates. Each of these styles of automatic gates has specific applications, but all offer convenience and security.
Automatic Sliding Gates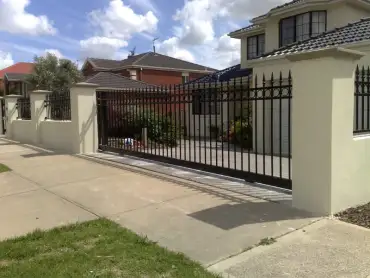 Automatic sliding gates provide convenience and security in properties with a wide frontage but limited driveway space. Wrought iron, tubular steel and timber sliding gates are an attractive addition to your home. Privacy can be enhanced by using timber and colorbond facing materials.
Automatic Swing Gates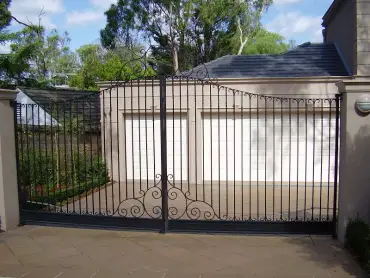 Automatic swing gates are used to provide convenience and security in driveways with sufficient space to accommodate the swinging action. Swing gates can be a beautiful addition to your home and increase your privacy. A range of materials can be used including timber, wrought iron, colorbond, steel palings, etc.
Automatic Cantilever Gates
Automatic cantilever gates are used in commercial and industrial locations where heavy vehicle traffic would cause damage to tracks used in other sliding gate solutions. Cantilever gates will always comprise fabricated steel construction.
BALUSTRADE, FENCING, GATE & LIFESTYLE SOLUTIONS
Since our inception in 1986, Haven Fencing has installed thousands of custom designed fencing, balustrades, gates and fences across Victoria for residential and commercial projects. We remain proudly Australian owned and operated, manufacturing almost everything ourselves at our workshop and installing fences. Our strict quality control process, attention to detail and skilled tradesman ensure your receive the highest level of quality and workmanship without the price tag. No job is too big or small. At Haven Fencing we believe in making life easier for our customers. We provide a customer friendly service, our goal is to design, supply and install a solution that compliments your requirements and budget. Whether it's a pool fence, garden fence or balcony railing, our customer service team will visit your residential or commercial premises, provide an obligation free quote and will take the time to work through your project. We provide commercial and residential fencing solutions to the highest standard. All our products are constructed using quality products from companies such as ARC Fences & Bluescope Lysaght.
---
We supply, fabricate and install products for:
Cantilever Gates
Construction Sites
Custom Commercial Projects
Custom Residential Projects
Gate Automation
High Security Fencing
Infills for Brick fencing
Iron Gates
Pedestrian Gates
Security Enclosures
Security Fencing
Security Gates
Stainless Steel Wire
Swing Gates
Tubular Steel
Contact us today for an obligation free quote and advice.
Call 1300 888 780 Monday – Friday 8am-5pm.